Hit the gym at Bali's hottest boutique fitness studio
Bali's trendiest boutique fitness studio in the heart of Canggu
-where the cool cats hang & sweat in Bali
Whether you're traveling solo, with your squad or bae, Canggu Nest is a fitness goer's haven. A place to connect & stay fit, with a like-minded traveller's.
Not only is Canggu Nest studio gorgeous but, what got me to be, a FAN for life was how, NOT judgemental or clicky, unlike other trendier fitness facilities. Know what I mean?
What's the gym etiquette like?
I know it can be intimidating rolling up into a gym, where you know no one, unsure if everyone already knows one another. Not this gym, everyone is so friendly, and the staff makes you feel so comfortable, shows you around, and makes sure you feel welcomed. (James the owner did a fantastic job hiring.)
What to wear…
Shorts, leggings & sports bra seems to be the going dress-code (you can also buy a T-shirt there, which makes for a epic souvenir too!)
What the facility is like…
The facility is literally spot-less & brand spankin' new, in fact I'd say it goes beyond the North American standard. Ya, I really do mean it.


The branding& aesthetic of the space is SO ON POINT, quite possibly the best I've ever seen across any of my travels around the globe.
Perfect for photos too, stunning open-light space (so you can take BOMB-ASS pictures here too.. DUH!
if you're looking to get a fab- I-stay-fit while I travel, vacay in Bali pic.. this is your time!
Free towels, water & shower are available for use.
Ps. Don't forget to grab a sticker from the kind ladies at the front desk, slap it on your laptop or suitcase for that Bali-digital-nomad-look… what, everyone is doing it!
So, which classes are for you?
BE prepared to sweat… in all the right places….
Me and the Bali retreat babes took the following classes (all where insane, killer sweat sessions)
Surprisingly I found Female fit to be the toughest one. My favourite classes were Boxing & Cardio. I also enjoyed TRX (Reese the Coach will help you, if you don't know what you're doing, I know this from experience!)
If you're not the class- type of gym-goer… No DRAMAS …there's also Happy Hour sessions where you come in, do your thang, and there's plenty of extra room (most members seem to be class focused)
What are the coaches & trainers like?
The STAFF is FIREEEE! I honestly mean it. The best.
The trainers are qualified, speak fluent English & VERY kind & approachable. Most are from England, Australia & North America.
Reese, Amie & Tom were the Bali Retreat gals favourite trainers, they were all fantastic with amazing energy & most importantly, super FUN!
Also… mega bonus… ALL trainers are extremely easy on the eyes 😍… Like, show me, that move, one more time, pllllluuuu—eassse! 😂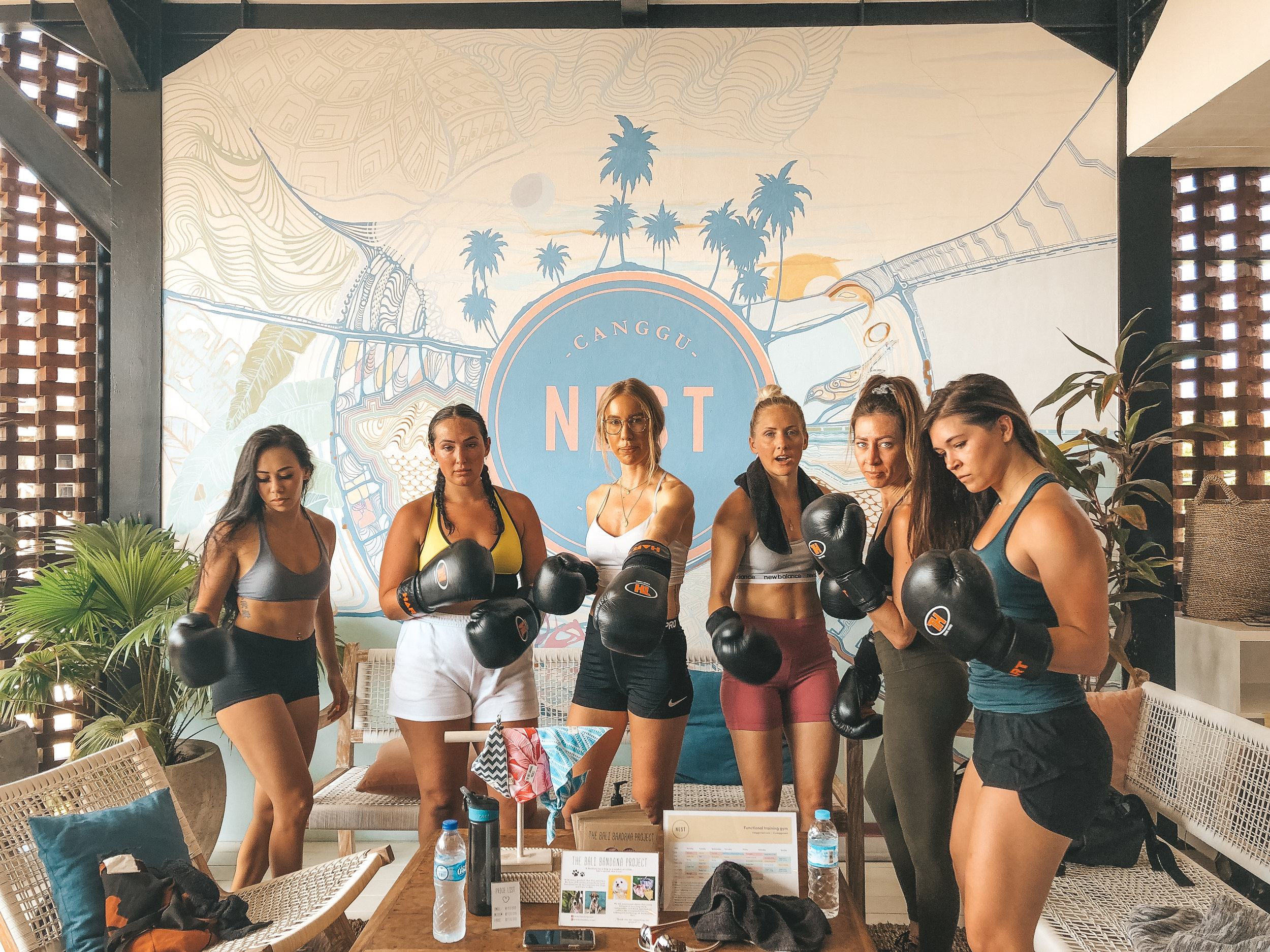 What you wanna know before you arrive
Classes start right on time, so it's best to arrive 10 minutes early to grab yourself a towel, water & check-in prior to start time.
Signing-up is super easy, for each class, you can pre-register online with (MindBody app) too easy.
Canggu Nest accepts credit & cash payments + they offer special discounts for long-term members in Bali (two weeks & more)
PRO TIP: When you sign-up for a membership you also receive discounts to 8 notable shops that are, 100% worth visiting (Cafes + boutique apparel shops) in Canggu .
Atillo & Co + Motion Café & Ruko Café (3 of my favs on the insider list)
There's also plenty of chill spots to eat to refuel at, after your sweat session…
Here's 3 totally worth visiting, all within a 2-min walking distance.
Nude Café

The Green House

Cinta Café
Once you're in Bali you will see how fitness & health oriented the culture for travellers is!
If you're gonna join a tribe, this is the place to do it!
Have a question? I would love to help you out.. Comment below & I'll get back to you. :)