Where to go in Croatia
 The islands of Croatia are so close to one another in comparison to other . This made it easy to travel from one island to the next in a short amount of time. I adored every place I spent time at over the course of my 3 week vacation but I do have my favourites. The following is a list of all the places that need to be on everyone's bucket list for Croatia.  
If you are looking for advice on how to visit Croatia on a modest budget don't you worry, I got you covered! Just check out my post h here.
Rich in history, and built from amazing architecture. In my opinion it's the most beautiful old town in Croatia. Walking the ancient city walls is an absolute must! 
You can't miss Lapad Beach if you're staying in Dubrovnik for a few days, spending the day at this beach was a highlight Dubrovnik.
I stayed in Ivanica, a small town just over the border of Bosnia. It was cheap and a short 8km ride to old town of Dubrovnik.
Pro Tip: If you plan to stay in Ivanica don't rent a car as the commute across the border is only quick if you're on foot. It's smarter to arrange a car to pick you up on the other side of the Croatian border.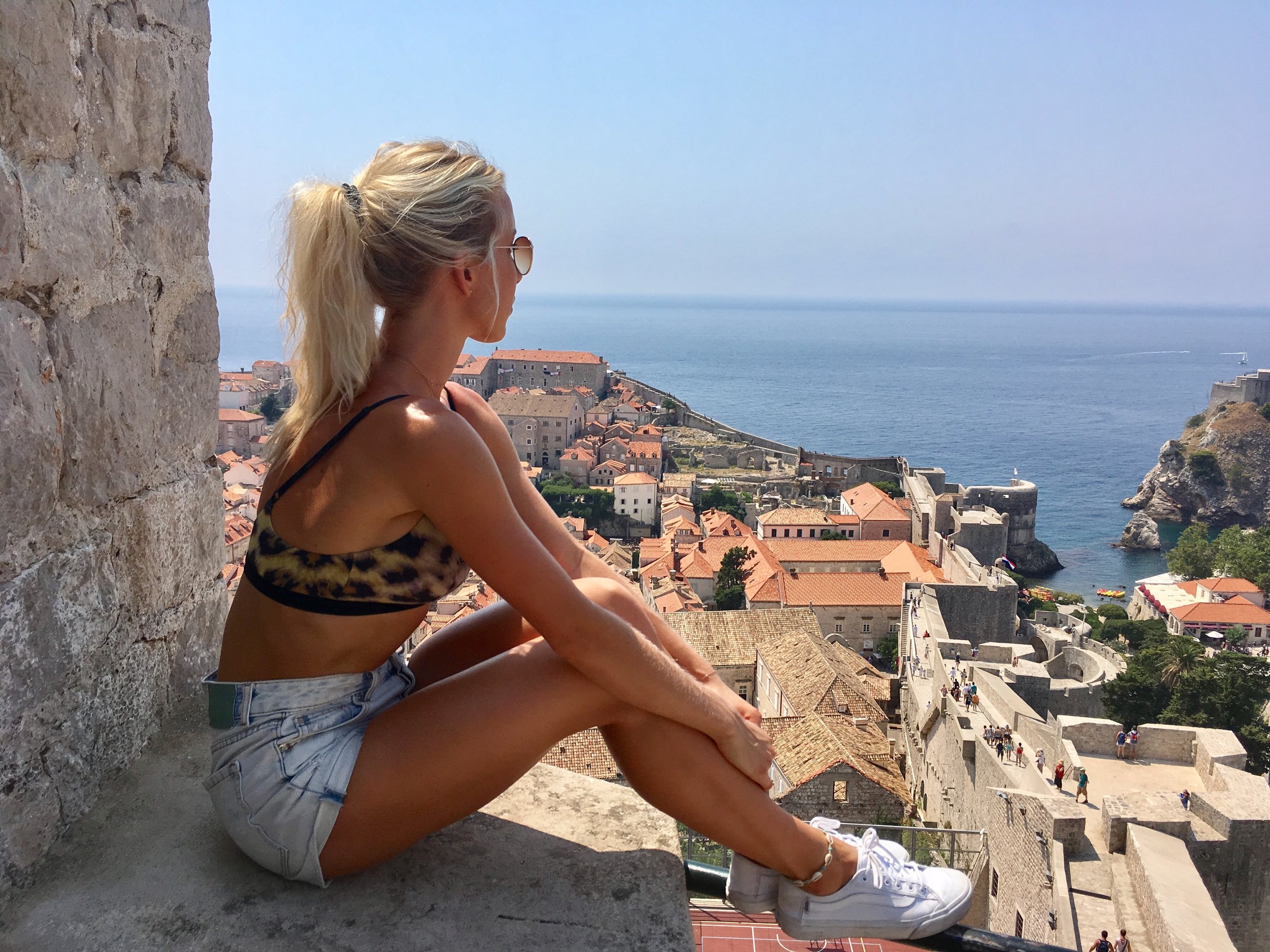 Makarska
The Makarska Riviera is full of breathtaking beaches and seafront promenades. Delightful place to spend a few days. A great opportunity to visit Makarska is by breaking up the travel time from Dubrovnik to Split as it's between the two cities. I stayed at Bellevue Apartments in Podgora and it was one of our favourite places! 
Pro Tip: I don't think it's nessecary to book a place online in advance if you can't find one you fancy as I saw many locals holding signs for vacant apartments.
With crystal clear aqua blue beaches, and laid back vibes, this island seemed like it was the local vacation destination.  You must visit the charming town of Bol. I stayed in Sumartin which was peaceful and lovely, if you want more action I recommend stayed in the touristy areas such as Supetar or Bol.
Pro Tip:  Zlatni Rat is the most popular beach on the island but it is very overcrowded in the summer months. Worth a visit just to see, but then spend the rest of the day at one of the many other beautiful beaches closer to the town of Bol, such as Bijela Kuć
The island is small and the beaches and monumental sights can easily be seen in one day, but I'm positive you'll want more time! It is also the closest island to Bisevo, which is where the famous Blue Caves are located. I recommend taking one of the longer excursions from Vis to the blue caves, because then you can experience a few hours at Porat Beach.
A trip to Vis is not complete without a stop at Stiniva Beach, one of Europe's more famous beaches.
I stayed in Komiza, an adorable town on the west side of Vis. It was more relaxed than the town of Vis . The only downside was the lack of fresh produce at the grocery stores. The better stores are in the town of Vis on the east side of the island, which is a 15 minute drive from Komiza.
Pro Tip: Book the blue caves tour a day in advance as spots fill up quick!
Pro Tip #2: Rent a scooter for a day, and follow a map around the island it's so much fun!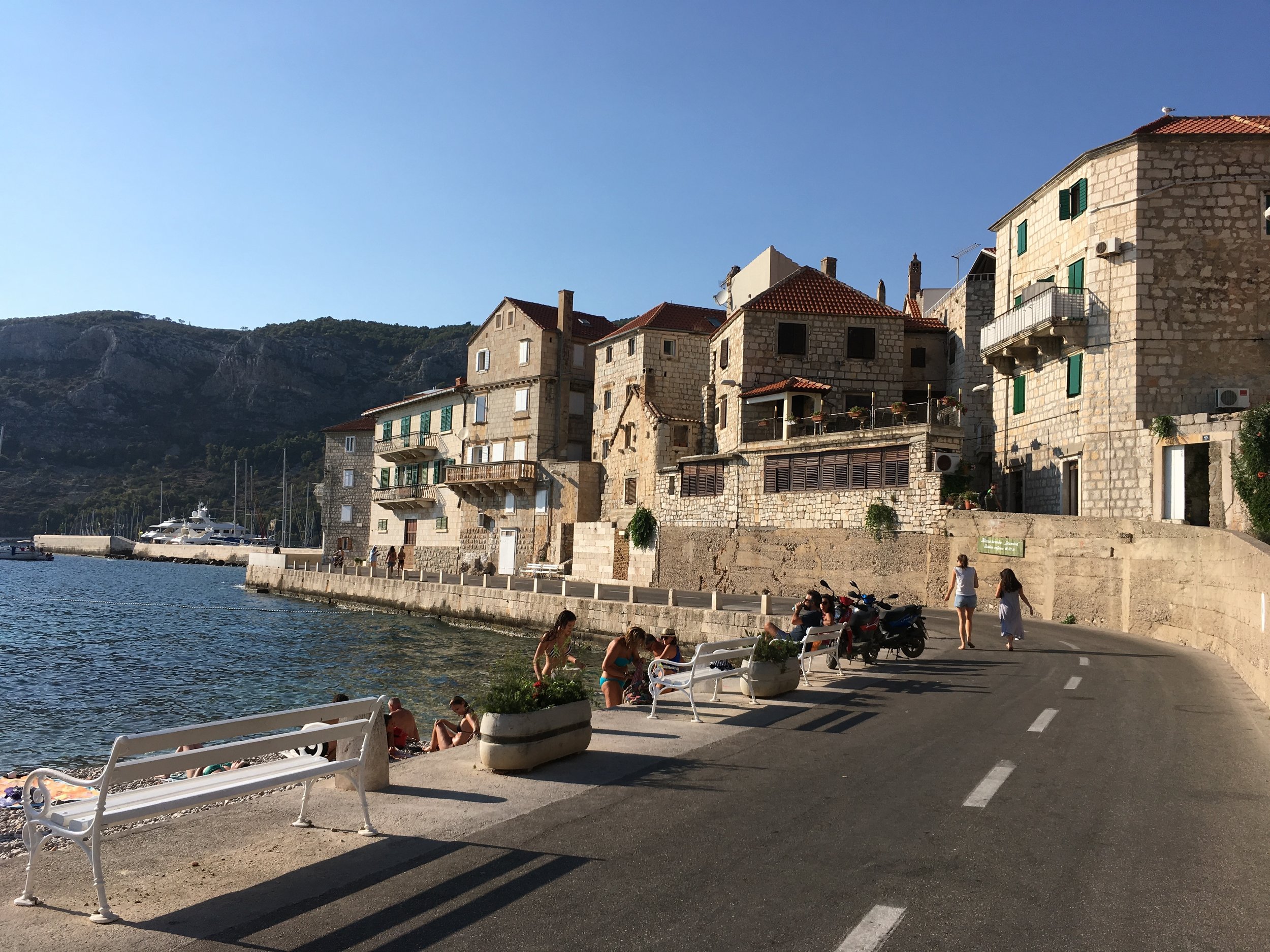 The most popular destination in the Croatian islands. I personally think it's the most modern island and has amazing dining experiences. Jelsa, Stari Grad and Hvar Town are all great places to base yourself out of. When visiting don't miss a night out at Hula Hula Bar and Carpe Diem. For a perfect day in the sun leave the touristy beach side locations in the town of Hvar, and spend the day at Dubovica.
Pro Tip: For cost savings stay in Jelsa, everything is cheaper.
There is always something happening in Split! It is the port to all the islands, and such a fun place to try amazing food and explore the streets of old town. It's a good place to base yourself from to see the Plitvice National Park and Krka Waterfalls. Find an Airbnb in old town as it makes for easy access to all the activities you'll want to experience in Split. 
Pro Tip: Buy all your souvenirs at the markets here! 
Pro Tip #2: Go to Lukas for the best gelato in Croatia!