How to budget travel Tulum
Tulum is exactly what I imagined it to be; a gorgeous hippie-feel town with undeniable charm. The town is coloured with stylish Mexican décor EVERYWHERE 😍I did tons of research before I chose this destination in Mexico, I've been three times before, and the last time I told myself I'd never go back, mind you that was during American spring break in Cancun - which is an entirley different experience on it's own. All I can say is be prepared to not sleep. 😳
Tulum is a Mayan city that shares similar touristy attractions like Cancun, Cabo and Playa Del Carmen but on a low key level. There's a ginormous selection of beautiful landscapes: crystal-blue beaches, waterfalls, underwater caves just waiting to be explored.
I picked Tulum for the stunning beaches (obvi) as you might already know it's what I live for! Getting around the town is made so easy with cyclist-friendly roads; you'll notice everyone has a cute little bicycle to commute around. If getting your bum a little sore it's for you - there's loads of local taxis moving up and down the streets at all hours.
Staying in a Mexican city that isn't over-crowded with tourist is my idea of the best spot to be, Tulum's low key identity allows for prices to be a lot more affordable than the bigger cities like Cancun and Cabo. You can never go wrong with tacos and gringas from the local vendors for 10 pesos a piece! #BLESS
Now is a great time to book a vacation in Mexico. With the peso's current value, your money can go further than ever before.
HOW MUCH money IS ENOUGH?
I think you could easily enjoy a nice 10 day vacation in Tulum for under 1000$, stay somewhere within budget and don't dine out too often.
How long is enough?
Anywhere from 5-14 days
Areas you want to be...
Tulum is made of 3 prime areas to sleep in
Center town of Tulum

Beach front properties by the ruins

Beach front condos & villas on the east side towards Papaya Playa beach
OPTIONS for Places to stay on any budget...
The type of experience that you want on your trip will determine where the best place for YOU to stay is... If you want the resort and spa type of vacation, staying at one of the gorgeous beachfront locations such as
Mi Amor Resort and Spa

Viento De Mar Hotel
Teetotum is another option it's a trendy boutique hotel in the town center that's has great food and a trendy decor!
If you're working with a small budget - don't stress, here are 3 of my favourite hostels (there's many options available)
Mama's House
Casa Del Sol Mexico
Quintana Roots
WHERE I STAYED...
Staying in the town was ideal for me because of the prime access to all the nearby supermarkets and shops for all the basic needs. I found the dining options in the town were noticeably cheaper than the properties along the water (obviously).
I stayed in an adorable Air BnB in the center of town, it was great! The property had a beautiful roof top pool with a dining terrace. The bedroom was fully equipped with a functioning kitchen, it was nicely decorated and comfortable for two.
Two Bicycles were also available at my disposal which was super convenient (most accommodation has bikes for rent) – as I mentioned it's the best way to get around Tulum!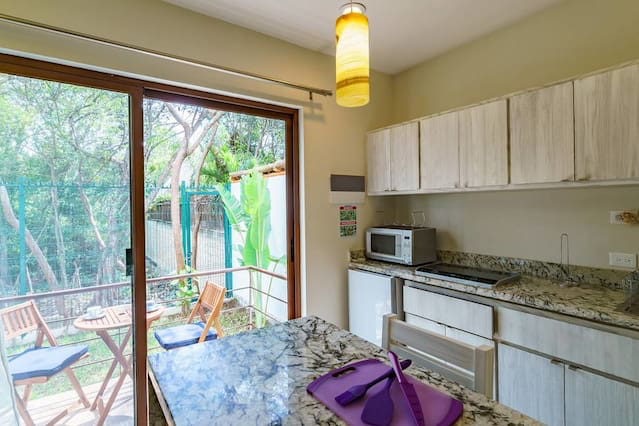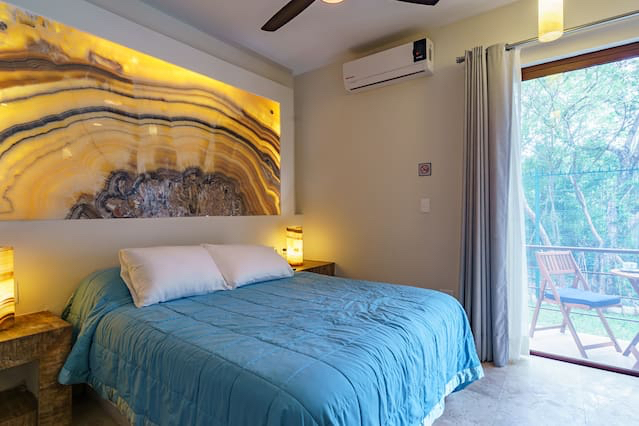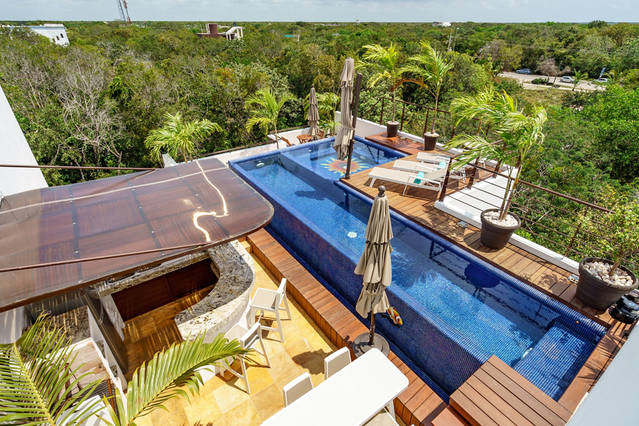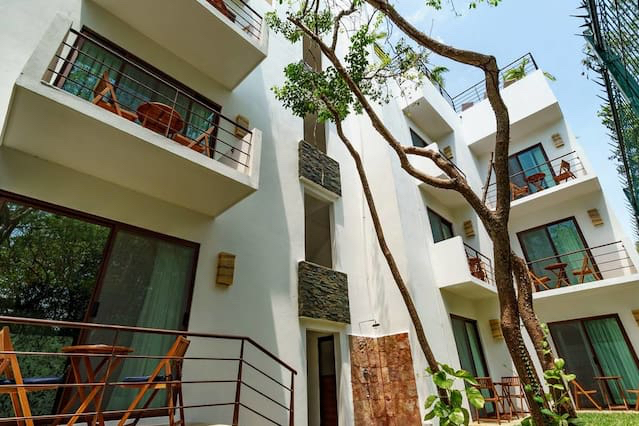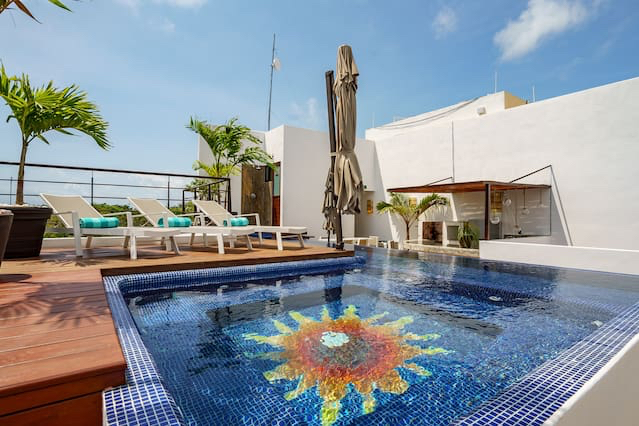 I was literally a 3 minute walk from the gym, grocery store, and local shops. When I wanted to go to the beach, or to a posher place for dining the quick ten-minute commute down the road was effortless.
The gyms by me was called Revolve, 20 dollars for a week membership (not bad at all). The gym had good facilities minus the fact that there was no air conditioning, oh well!
My Air BnB was 1,900$ CAD for 10 nights the property is as pictured above (nice right?!)
PLACES TO EAT OUT & ON A BUDGET
The beach bum lifestyle is available for minimal cost, Tulum can be done on ten dollars a day if you really had too.. Eat cheap street food, stay at one of the many hostels, rent a bicycle and spend your days soaking up the sun at the stunning beaches at your disposal.
The Supermarket called Chedraui has everything from a variety of fresh produce, liquor, toiletries and snorkel or beach equipment. Buying my groceries here was SUPER CHEAP roughly 10$ for heaps of vegetables and condiments. (YAS!!)
The pizzeria Manglar was also very busy every night with a budget friendly menu. A STUNNING place to grab lunch is called Mi Amour Restaurant and Spa. This place was my favorite because the location & atmosphere is EVERYTHING!
If you want delicious Thai food, Mezzanine Restaurant and Martini Bar delivers just that, with a variety of unique stir-fry, tapas and salad options.
Tip: The best street tacos came from this stand outside of the OXXO convenience store in the center of town (little red trolley). He is open from around 7pm-2am for 10 pesos a taco!
MUST SEE BEAUTIFUL BEACHES
Tulum's prime appeal to me was without doubt the beaches, I couldn't believe it when I walked onto the white sand of Tulum Beach and gazed out into the ocean, a jaw dropping aqua blue! Be sure to visit as many different locations that you can but if you only go to a few here's a list of the best ones.
This beach is amazing, but it's just to look at it's not open to the public for sun bathing or swimming but you must see it while your on vacation it is divine.
This beach is awesome if you want to have a lunch or snack at a beach that has great food, surrounded on each side with rock cliffs, it allows for the currents to be quite tame and guarded from any wind. The rock cliffs advantage is the view of the ocean colours on top of them.
Just down the road from the ruins, it's unspoiled and gorgeous with low currents for every skill level of swimmer.
A little more of a crowd here, but that's okay because it's atmosphere makes up for it. This beach also has a lot going on at it, if beach bars and socializing interests you. Or if your like me and you enjoy people watching this is a good spot for you.
BEST Night time experience
I went out in Tulum a few nights! Down by the beach there are a selection of bars that are lively at night. This area is only a quick taxi ride away from the town center for around 100-150 pesos ($10). Gitano, a Mezcal bar with a wicked boho style interior was my favorite! It was the place to be on a Friday night!
TRAVEL through mexico LIKE A PRO TIPS
1. Tulum is roughly 2.5 hours away from the closest airport in Cancun. There are several options for transport from the airport, including hiring a private car for around 70-100 USD, or taking the local bus to Playa Del Carmen for 500 pesos and then transferring on another bus to Tulum for 200 additional pesos. The airport was an absolute mess when we got there as all the flights had come in around the same time in the afternoon. We waited 2 hours to get a coach/taxi. I recommend hiring a driver beforehand or taking the local bus.
2. KEEP the immigration visa slip that you'll receive when you arrive in Mexico - as it's your ticket out of the country! If you don't keep that slip you'll have to buy another one for 500 pesos at your departure. Save yourself some money and keep that paper nicely tucked away in-between your passport.
3. Bartering in shops can be very easy. Try to gauge if it's appropriate to do so by looking at the style and location of the shop. Local shops are the most acceptable places, especially in the tourist areas. Taxi's in Tulum don't negotiate very much, learn the prices to get from one location to the other so you will know when a driver is over charging you. He will immediately go down in price if you call him out on it.
4. If you want to go to the ruins try going EARLY, the crowd becomes massive in the afternoon. In order to expedite the line, a good idea is to pay a few extra dollars and enter with a tour guide.
5. One popular excursion is a tour of the Cenotes. The Cenotes are networks of freshwater caves throughout the area. If you want to book tours to see the Cenotes the best way to go about it is checking all the tour shops for pricing and then finding out which Cenotes the company has access to. Each Cenote is different and some tour companies will have more exclusive access than others.
6. Always count your change after buying something and ALWAYS look at the price LISTED not the price the workers tell you. Especially in bars and restaurants. I had a few instances where I was shorted money and quoted different prices then on the menu. Just be aware is all.
Lastly enjoy yourself! Eat tacos and drink A LOT of marg's.... and learn a little Spanish too. 😘